Office Furniture - Charles Eames Thin Pad Chair for Brook Green, London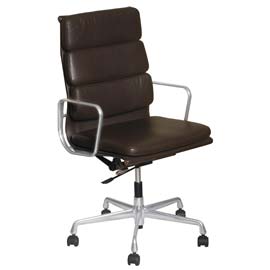 The Charles Eames Thin Pad chair, also known as the Charles Eames Soft Pad chair comes in two versions, the high back, also known as the management chair and the low back version. Both are supremely comfortable, with the high back chair giving additional upper lumbar and neck support.

The comfortable seat and cushions are upholstered in luxurious Italian leather on a robust aluminium and chrome frame. The ergonomic design ensures correct posture and comfort even after long periods.

These spectacular chairs combine functionality and aesthetics to bring style to any office. If you have Charles Eames chairs that are surplus to requirements, call us on the number shown above or click in the header of any page to send us an email to get a generous cash offer. We will collect Charles Eames Soft Pad chairs anywhere in London or its immediate surroundings.